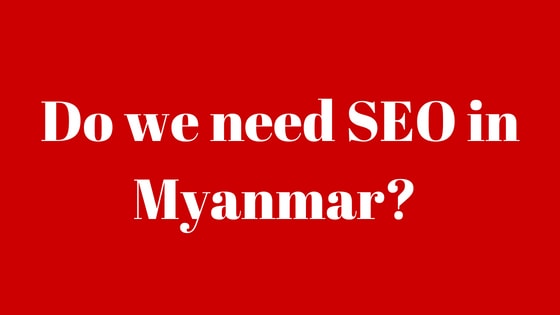 As we already knew that social media marketing is becoming extremely popular in Myanmar. Most of the business try to get a place on social media. I would like to raise a question that "Do these businesses also need to do SEO in Myanmar?"
But frankly saying,  the most used social media platform is "Facebook". We cannot deny it. New social media agencies are also setting up every day because of increasing demand of social media services by businesses. I think competitions on the social media will become quite tough in future.
There is one thing we all missed to focus and most businesses also missed to invest. It is "SEO". Some people may say you that SEO is useless in Myanmar or social media marketing is outrun SEO. Yes. It is generally true in Myanmar because of internet usage pattern of Myanmar people.
In Myanmar, when we say "Internet", most of the people think that it is Facebook or other social media platforms. But we cannot ignore that there are some user population who are still using websites, search engine to get information and to do business. This population is the best target for SEO.
I admitted that for over last three years, my main focus was Facebook marketing and I totally neglected the important of SEO in Myanmar. Because of increasing the amount of Facebook Ads cost and some limited features that we can use on Facebook, I started to interest on SEO.
My Scenario
I have some online businesses which cannot get audience on social media as easy as other businesses. (Trust me, my businesses are not illegal, the problem is my targeted audience are not hardcore social media users or it was very difficult to localize them on social media).
That's why I developed a strategy to localize them on internet to get a sale leads. My strategy includes SEO as a major portion.
My strategy is simple. To create a online environment (blogs) which has some level of relevancy to my main businesses. I will use my blogs to localize my targeted audience, then I can drive them to my main businesses which cannot get audience on social media.
To create online environment, I applied all of my SEO knowledges on my blogs. Within 2 months, I can get some noticeable improvement of my blogs in search engine ranking.
I have different keyword sets for each blogs, by end of July, some of my keywords got 1st position at google search and some keywords take position in first page. And the most exciting thing is that I get traffic, subscription and enquire from my targeted audience.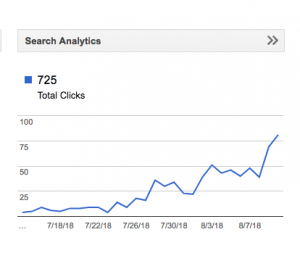 I want to say that SEO plays a major role than SEM and social media. (I also created social media placement for my blogs, but organic traffic is higher than social media traffic on my blogs).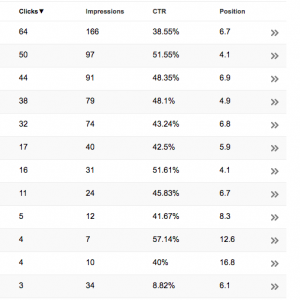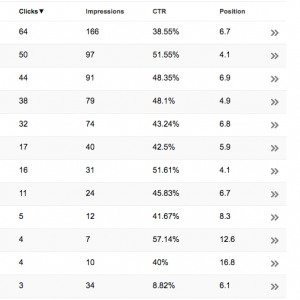 I haven't reach to my targeted objectives yet as it is just 2 months. But I hope that I am on the right track for my businesses.
So, you may want to ask some questions on my post. You may probably want to ask the following things.
Questions and Answers
Why can't you target your audience on social media especially Facebook?
Facebook doesn't provide features to localize my target audience. I have tried several tests to localize these population. But it is not possible with low budget. That means I can reach them with high Ads spending on Facebook, but ROI may be questionable.
And for long run, I would like to say that organic search from search engine is better than social search. Because organic search is free. Yes, social search is also free, but value will be different.
Did you say organic search is more valuable than social search?
I would like to ask back to you. Which business will be more trust worthy if you find it on google search or if you find it on Facebook Ads?
Personally, I trust information that I get from search engine than social media. To get placement on first page of search engine, there were a lot of hard work behind it. (You can against me that it is easier to get high ranking on google by using black hat SEO).
Yes, it will help you to get high rank, but will not help you to keep you there for longer time).
How did you know that your targeted audience use search engine to find keywords related to your business?
Firstly I made blind assumption that my targeted audience use search engine. But to prove it, I did a lot of keywords research to know which keywords are popular and related with my businesses.
It is not a one day tasks, I had to spend whole April to get the most appropriate keywords. This activity consumed most of my night time.
I needed to find popular keywords in google search in Myanmar, I needed to filter out some useless keywords. Also I had to check that did my audience really search these keywords on google.
I spent a lot of time on forum and online Q&A sites to explore how people interact with my selected keywords.
Finally I came out with 3/4 keywords for each blog. I have total 4 blogs so my total keywords is around 16.
Did you also do competitive analysis?
Sure, I did it. I did it for not to compete with them to get a keyword, I did it to outrun them by using other keywords they are not ranking for. Also I did explore their SEO technique.
Should I follow your tactics?
Ah. It is difficult question. Before you follow my tactics, you have to revisit your business and strategy first.
Here are some tips to consider that your business will need SEO or not.
If you can localize your audience easily on social media and you are happy with it, you may not probably need SEO.
2. If you cannot localize your audience easily on social media or you want to reach beyond social media, you surely need SEO.
3. If you want to reach out to the international audience, you will surely need SEO.
4. If your business need reputable online placement, having Facebook page alone is not enough. You should have a website.
5. If you want to spend less on Facebook Ads while you still want to get clients through online, you surely need SEO to help you get a lead.
Summary
To summarize, SEO is not dead in Myanmar yet. It brings some value to your business if you properly invest on SEO. If you aim to reach beyond Myanmar, SEO is a must thing you need to consider.
SEO is not as easy as creating social media ads. It needs SEO skill and knowledge, it needs time and it needs some investment.
If you want to know more about SEO, you can reach out to my by leaving comment to this post or sending email to [email protected]