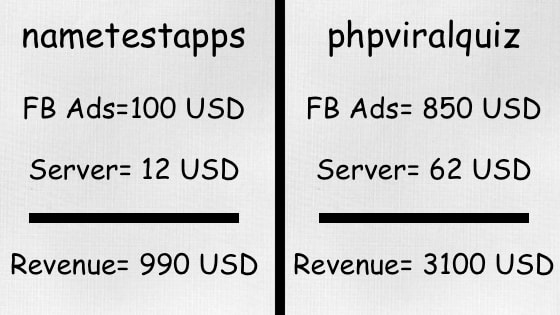 Hi, this is my revenue comparison between two viral websites based on June. These two websites are the one using phpviralquiz and the one developed by nametestapps team.
Actually it is not fair to compare between these two websites as I just started using nametestapps only after 7th June. So it's performance cannot be regarded as the whole month performance. And also it is not fair to compare because some of the quizzes performed better than others on each site.
But some of the figures from this comparison will help you to choose the viral websites or will help you to develop your viral website strategy. I am not going to say which one is better. I will just describe about my experience.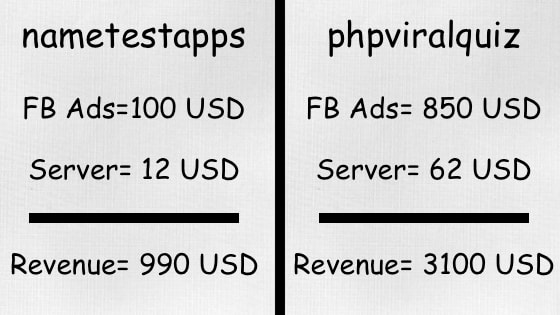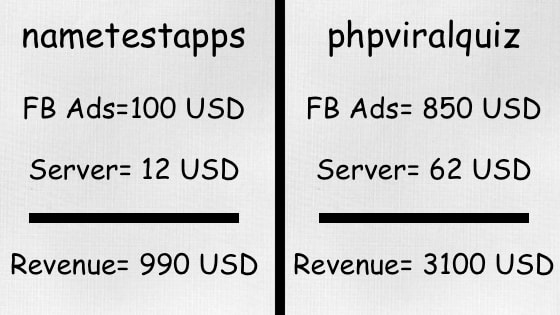 For nametestapps, I spent average 10 USD for each quiz, so there were total 10 quizzes I created Facebook Ads. For phpviralquiz, the maximum spending for single quiz is around 100 USD and the minimum is around 5 USD. Total quizzes I boosted is also around 10 quizzes.
Target audience are the same.
I am using digital ocean hosting for nametestapps which cost only 12 USD in June. Namecheap VPS for phpviralquiz and it costed me 62 USD in June. I am still using the same till now.
This is my revenue comparison between two of my active viral websites. (I am no longer use viralFB and socioquiz. I switch my socioquiz platform to do branding marketing for my clients).