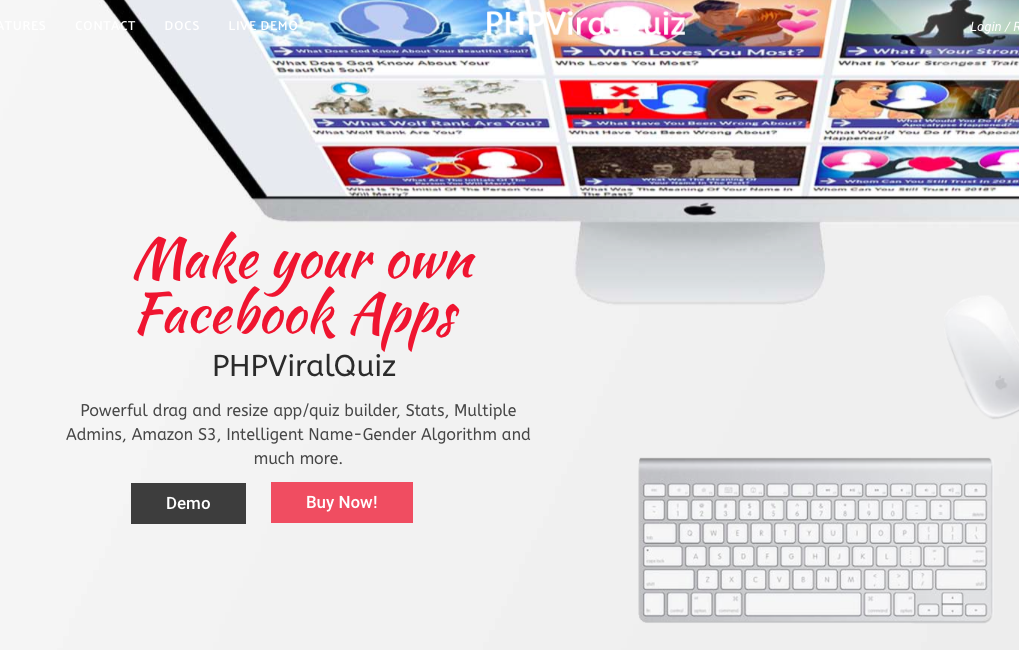 It has been exactly 1 month that I have purchased Facebook viral quiz script from www.phpviralquiz.com. My overall opinion is "satisfactory". Here is my honest review on phpviralquiz script.
I would like to describe review into two parts. Script and support.

Script 
Installation and set up: Installation guide is provided with well documentation with video clips. But frankly speaking that it is quite difficult to set up than other viral scripts. It doesn't provide auto installation. So that you have to create data base then you have to point database in config file. But it is still ok to self set up.
But if you are not familiar with php set up, they can provide installing service with 5 USD. It just takes 30 mins to complete provided that you already have hosting ready to be installed on it.
Performance: It is fun quiz type. So it is not like personality quiz or trivia quiz. But fun quiz type is the most common viral quiz type. It is similar to nametests.com or vonvon. It can generate random result.
It offer gender features and also friend features. But you have to request Facebook permission to use friend features. (At the moment, it is quite difficult to obtain Facebook permission for friend features).
Creating quiz is very easy and fast. And also it includes built in text styling. So you can install your own font.
Within one month, I haven't got any problems related with the script.
Support
Support from script developer is also great and very helpful. He is very responsive (but at the moment, he is busy with other tasks, so reply from him will take a little bit of time). But he is still responding your email and live chat. They also have Facebook chat support. This is great.
Within this months, I have some redirect issue occurs on my website, I have experienced downtown of over 2 hours. But this issue was successfully resolved with their support.
So to conclude, I would like to recommend phpviralquiz.com if you are looking for the right script to run viral website.