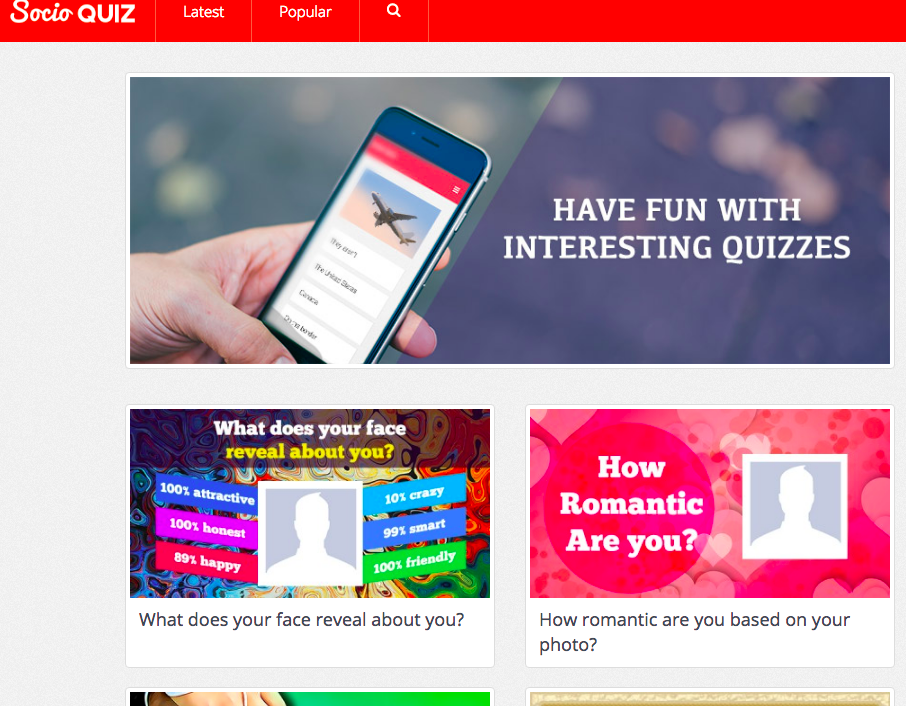 I am going to write transparent, independent review on Socioquiz.
I purchased socioquiz script from Codecanyon with 44 USD. On it's sale post, it has over 1500 sales and a lot of comments. Rating is 3.99 average out of 135 rating.
I will going to tell you about it's advantages.
Advantages
1) It can create different kinds of test (prediction, score based and Random). With prediction, you can create result which is close enough to user's personality and behavior. It's really quite good.
With score based, you can create quiz likes English Grammar test, Knowledge test.
Random is for regular random result likes other viral scripts.
2) Admin Panel UI is good, easy to use and well designed.
3) compare to other scripts, it is cheap.
4) You can buy ready made quizzes from other provider. So you don't need to spend time to create quizzes by yourself.
5) One good thing is quiz can be answered without need for Facebook sign in unless quiz has Profile picture function. So it is more safe to use nowadays after Facebook policy changes on application.
Here is Disadvantages (or area to improve)
1) Support from socioquiz provider is really bad. I had to wait at least 5 days to get reply from them. After getting one reply, you have to wait another 5 days to get another response. (I faced issue while installing, I had to wait 5 days to proceed, but it didn't resolve the issue with their first response, so I had to wait another 5 days).
2) It will take time to prepare one quiz with socioquiz. Because it uses different image sizes for banner, thumbnail, results, OG image. So you have to crate image for everything. If you use Prediction quiz, you have to create photos for all the questions and multiple choice answers.
3) Compare with ViralFB, it has lower RPM with AdSense. So if we earned 10 USD with ViralFB, we just earned around 3 USD for same traffic, and impressions.
4) They don't have social media support. They didn't reply to my message on Facebook.
5) My last email to them was last 2 weeks ago, but still didn't get reply from them.
So let's conclude,
Based on my experience with socioquiz, it is good to create various kind of quizzes, it is good for viral marketing tools. But if you want to use socioquiz, you need to know a bit about server and php installing procedure. If you are new to hosting and server, you will face some difficulties.
If you want to know more about socioquiz, you can reach out to me by this email: hi@aunghein.com.